With residential space quickly running out in the British capital, many people are considering living in one of the many high-rise apartment buildings popping up all over London. Flat with a view might be an enticing option for many people, but moving into one of those properties is a tat different than moving from a one or two storey house to another. There are also certain rules and regulations applied by default by most high-rise apartment building management, they must also be met accordingly to avoid any issues or additional fees. Below are outlined some of the more important rules and regulations valid in many high-rise apartment buildings.
1.      

Building management

must be informed of your moving in, well ahead of actual move day. Building manager must be notified of precise day and time, so they can authorise you moving in. Failing to do so might result in additional fees and/or delays.
2.      

Using the correct technical infrastructure

– many new apartment buildings have a designated entry/exit and elevator for moving in and out of furniture, appliances etc. You should check which of the lifts is designated as 'service elevator' and use it for moving your belongings up to your floor. Again, failing to do so will likely result in fees and delays. Consult with onsite building manager where the service elevator is. Sometimes it might be necessary to book the elevator in advance to gain access.
3.       Many of the new apartment buildings also

come courtesy with a number of luggage trolleys

. Speak to the onsite building manager to see if trolleys are available and if you can use one for your belongings. Using a trolley will make the entire moving in process quicker and more efficient. If no such trolleys are available let your movers know and they will acquire the necessary equipment ahead of actual moving in.
Some golden rules to follow when moving into an apartment high-rise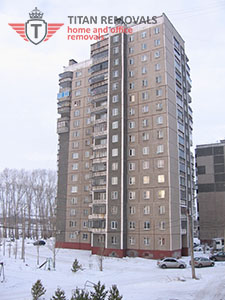 The advice listed below is quite valid for any type of property removal, but applying it in this case will make all the difference and save you a ton of unnecessary hassles.
Travel light – the less you have to move the better, that's a fact. De-clutter well before moving and don't pay good money to relocate items you no longer need. This will also reduce time and costs of moving into a high-rise apartment building.
Pack properly – since you will most likely be using removal trolleys, service lifts etc. it is best to have all your stuff packed tightly. The more compact you pack the more efficient the removal process.
Consider using a removal company in London which is experienced in high-rise removals. Keep in mind that moving into a high-rise apartment building on an average takes longer than moving into any other type of residential property.
Check with building management if the infrastructure you require (service lifts, trolleys etc.) is available when you need it as some buildings only allow use of these at specific times or days of the week.