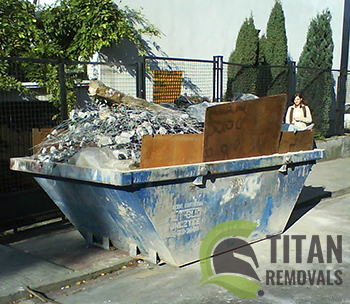 As alternative to our junk removal and disposal service, we can offer our private and business customers throughout London specialised skip hire service at very good prices. The skip hire service is ideal for when dealing with large amounts of waste, or in cases where junk and rubbish will need to be collected over a number of days or weeks.
Hassle-free service

– we have all required permits and licensing to operate skips in all zones of the city, there will be no need to waste time and money on dealing with any paperwork on your own, as we will take care of everything.

Convenient and effective

– hiring a skip can save you lots of headaches in certain situations, if you are unsure whether or not you require one – speak to our consultants and they will advise you. We will deliver the skip at a suitable time and day of the week, our technicians will make sure the skip is covered and its contents protected from the weather, also that the skip is positioned correctly, doesn't obstruct traffic and is clearly marked and visible. When the skip is full, just let us know and we will come and collect it. Please observe the level load markings on the skip as this makes life easier for everyone.

Technical information

– we operate various size and load capacity skips as to cover various requirements of commercial and private customers, if unsure which size skip you need, please speak to our consultants, or request a job viewing with one of our technicians.
We believe four our skip hire in London to be a fair priced service, which allows for moderate costs. For detailed information on service pricing, availability and another specifics regarding the service, please contact us via phone or email, seven days a week, including public holidays.